Pure, effective, safe. Our USDA-certified organic formulation (patent-pending) is like no other on earth. With cleanly-sourced, organic, plant-based ingredients, Eyeganics Organic Tears offers instant, resilient relief and potent protection against eye dryness and irritation. We guarantee your satisfaction, with free returns for a full refund. The preservative-free bottle technology offers unrivaled protection against contamination and is easy to use, requiring a steady, sustained squeeze for drops to dispense.

Regular price
Sale price
$29.00
Unit price
per
Sale
Sold out
tears of joy
For decades my wife has been dealing with sjogren's and the dry-eye that comes with that. Eyeganics does as well or better than any of the prescription pharmaceuticals, and it is organic and much healthier for the eyes. Curiously, her eye condition appears to have improved somewhat, since she started using this. It's effects seem to least better as well. I, myself, have used it, on occasion, to relieve eyestrain. It's wonderful stuff. I mentioned it to the buyer at our health foods store. She uses it now and loves it. She's also begun stocking it there. One hates to run on too much, but really it's the best product in this field.
Refreshing, soothing relief for dry eye that lasts!
I had been searching for a couple of years to find organic eye drops with just a couple of ingredients. My eczema worsened in reaction to both the mainstream brands as well as the homeopathic brands. I suffer from dry eye due to necessary lap top work (I avoid screens whenever I can), and daily eye drops are a must for me. I was so desperate that I began to make a homemade eye drop solution with distilled water, but in addition to being tedious, it was not helpful. When I first used Eyeganics Organic Tears, they were instantly refreshing and soothing--I experienced a cooling sensation of my eyes. Moreover, using them once in the morning upon waking and once at bedtime lasted me all day and all through the night. With previous brands I've tried, I had to take the drops a few times per day. Also, I love the shape of the dropper--It dispenses one drop rather than a wasted stream. The cap is also easy to get off and on. It took a great deal of searching to find Eyeganics eye drops, and I am so pleased and happy that I found them!
Awesome Product
Hello,
I wanted to thank you for this amazing product. I have been allergic to Soy my entire life and I have Celiac disease. I also have a list of other allergies. For that reason I'm very cautious about anything I use.I have had dry eyes diagnosed by my eye doctor for years. I found that I could use nothing that was sold on the market or nothing that my doctor even had. Desperation I googled organic eye drops for dry eyes. Your website popped up. To my surprise they are soy and gluten free. I ordered them immediately. I received them on October 28th, 2022 I started using them that night. It is now November 9th,. 2022 and I have to say these are the best drops I've ever used. I have no reactions of any type absolutely none. My eyes feel 100% better. I am so thrilled I found your website and ordered these.Thank you so much.You have made a big difference in my life. I will definitely keep buying these.
Thank You Again
For an amazing Product
Pam Stender
Love it
Recently went to a new eye dr & learned I actually don't need glasses & have severe chronic dry eye. Something my old eye dr ignored. I bought your drops after Xidra was pushed on me after expressing I don't like taking prescriptions & had a severe fibro flare/ allergic reaction. Your drops have helped my eyes tremendously & I no longer have daily eye pain or strain! So thankful!
One word: AMAZING.
I was hugely skeptical of this product as I am with most products because I'm sensitive to everything. My eyes have been bothering me for years and I've used doctor prescribed products. My eyes were constantly inflamed and even in a lot of pain quite often because I'd rub my eyes so much. Id regularly burn through two bottles of Systane in less than a month. Those are not cheap. But with Eyeganics, I put in a few drops a day and my eyes are EXTREMELY refreshed. The effects were IMMEDIATE. Didn't have to wait and see to notice the effectiveness of this product. Now I have hope and will be using this through the end of time. Totally worth the cost. In fact, I'm definitely saving more than I was when I was burning through the commercialized products. I also don't usually rate products because I'm busy (or lazy), but I had to for this one so I can spread the word to those who are in similar situations as I am. I will be gifting this product to my family and friends because they also have dry eyes and regularly use commercial drops. Thank you for this amazing product!!!
View full details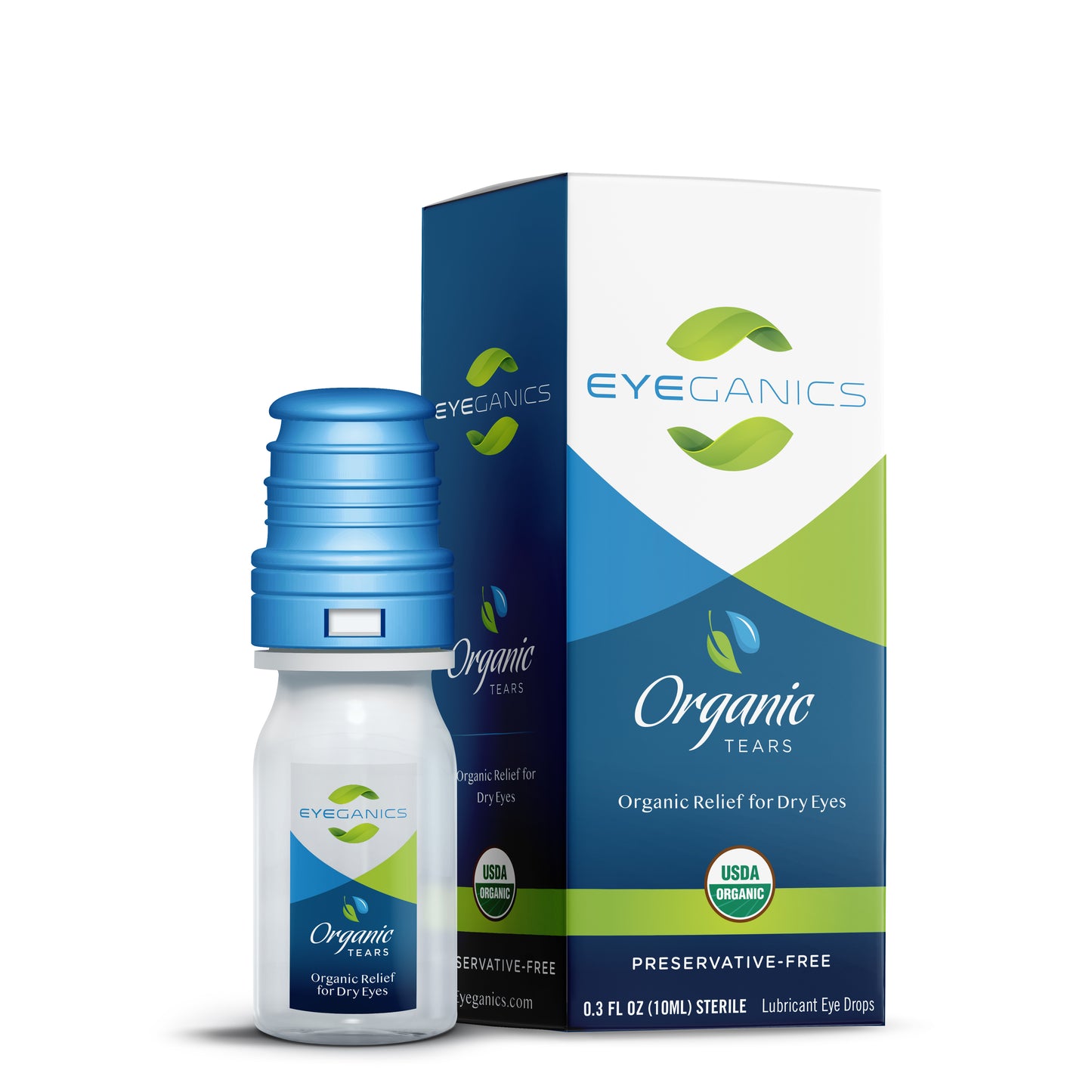 Collapsible content
Ingredients

Glycerin*, Sodium Chloride, Water.

*Certified Organic
Certified Organic

Eye drops are absorbed into your bloodstream - don't let the potentially toxic industrial chemicals of artificial tears into your eyes and body! Eyeganics has ZERO Artificial chemicals. It's preservative-free, chemical-free, gluten-free, soy-free, cruelty-free, and vegan.
Safe

Our bottle utilizes new technology, where preservative-free formulations can be dispensed with unrivaled microbiological safety. Made with the world's highest quality standards and strictest safety regulations.
Details

Over 250 Drops Per 10mL Bottle
Free Shipping
100% Satisfaction Guaranteed
Free Returns for Full Refund